Cauliflower Risotto and Sweet Potato Mash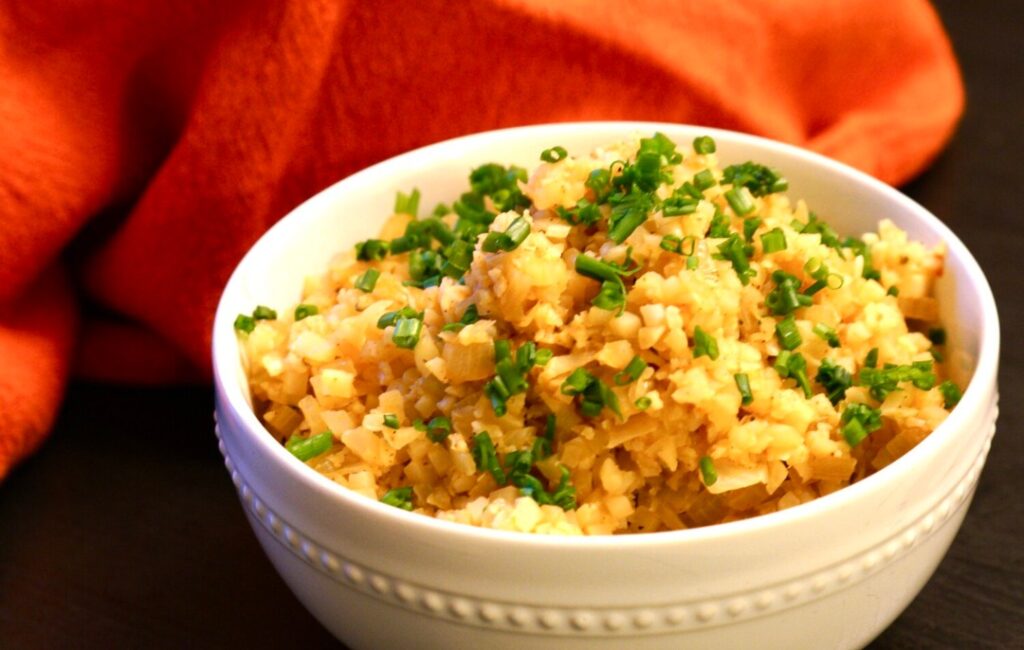 Serves: 2-4 as a side
Eat Well With Ming: Cup for cup, cauliflower has about 10% of the calories and 11% of the carbohydrates compared to white rice making it a great low calorie and low carbohydrate option
Allergy Free Note: shellfish free, fish free, peanut free, soy free, tree nut free, gluten free and egg free (note can be dairy free if you omit the butter)
1 whole head of cauliflower or a bag of riced cauliflower
1 teaspoon olive oil
1 medium yellow onion, minced
5 cloves of garlic, minced
2 pinches of five-spice
1 ½ cups low sodium vegetable stock or water
2-4 tablespoons of butter
½ bunch, finely chopped
Kosher salt and freshly ground black pepper to taste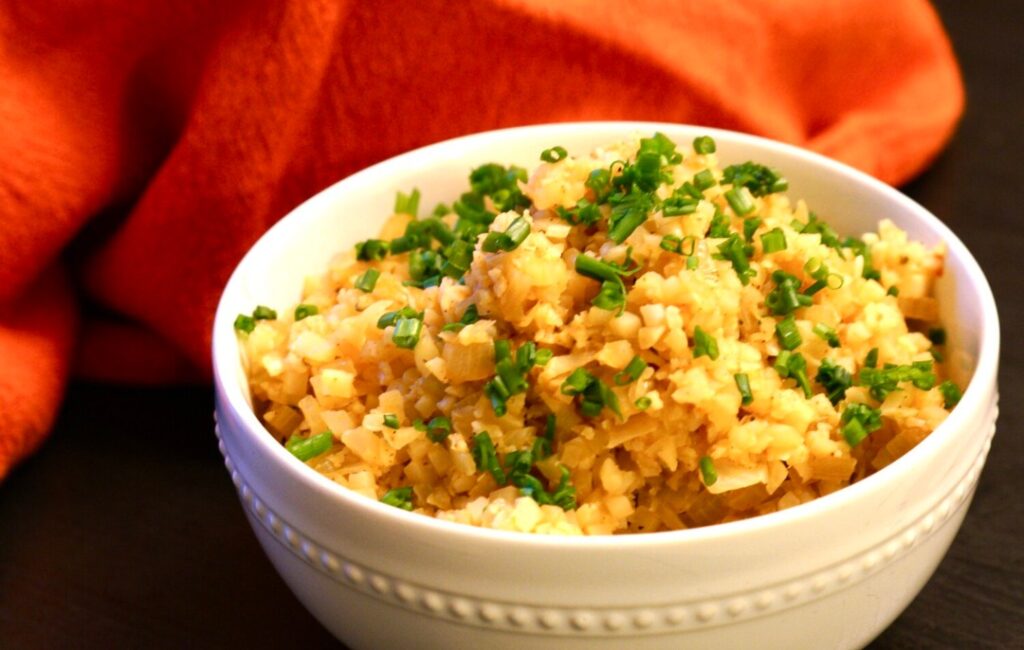 If you are using a whole head of cauliflower rather than store-bought riced cauliflower, separate and cut off the stems. Buzz the stems int a food processor until you have rice like pieces and then separately buzz the florets into rice like pieces. Set aside. 
In a large sauté pan, on medium heat add the olive oil and onion and sauté until the onions start to caramelize, about 8-10 minutes. Add the garlic and cauliflower and cook out the rawness, about 1 minute. Season with salt and pepper and the five-spice. 
Slowly add the stock or water in ½ cup increments stirring until it is fully absorbed, it should take about 3-5 minutes each time. Keep adding the liquid in ½ cup increments until the cauliflower is fully cooked. 
To make this a bit more decadent, add 2-4 tablespoons butter at the end. This is not necessary but high recommended. Garnish with chopped chives and serve hot.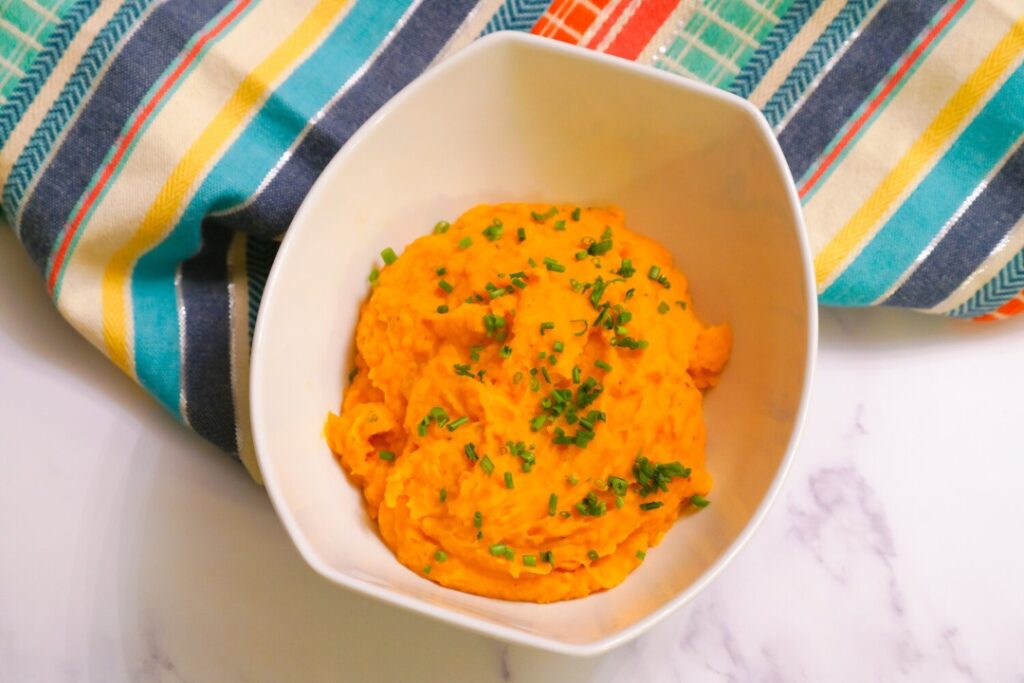 GINGERED SWEET POTATO MASH
Serves: 2-4 as a side
Eat Well With Ming: Did you know absorption of vitamin C and some antioxidants actually increases after cooking them? Plus, sweet potatoes contain beta-carotene, the pigment that makes them orange which your body turns into vitamin A. 
Allergy Free Note: shellfish free, fish free, peanut free, soy free, tree nut free, gluten free and egg free (note can be dairy free if you omit the butter)
3 large sweet potatoes, washed well and poked with a fork
1 tablespoon butter or olive oil, plus 3-6 tablespoons for finishing at the end
1 tablespoon minced garlic
1 tablespoon minced fresh ginger
Kosher salt and freshly ground black pepper to taste
½ bunch chives, finely chopped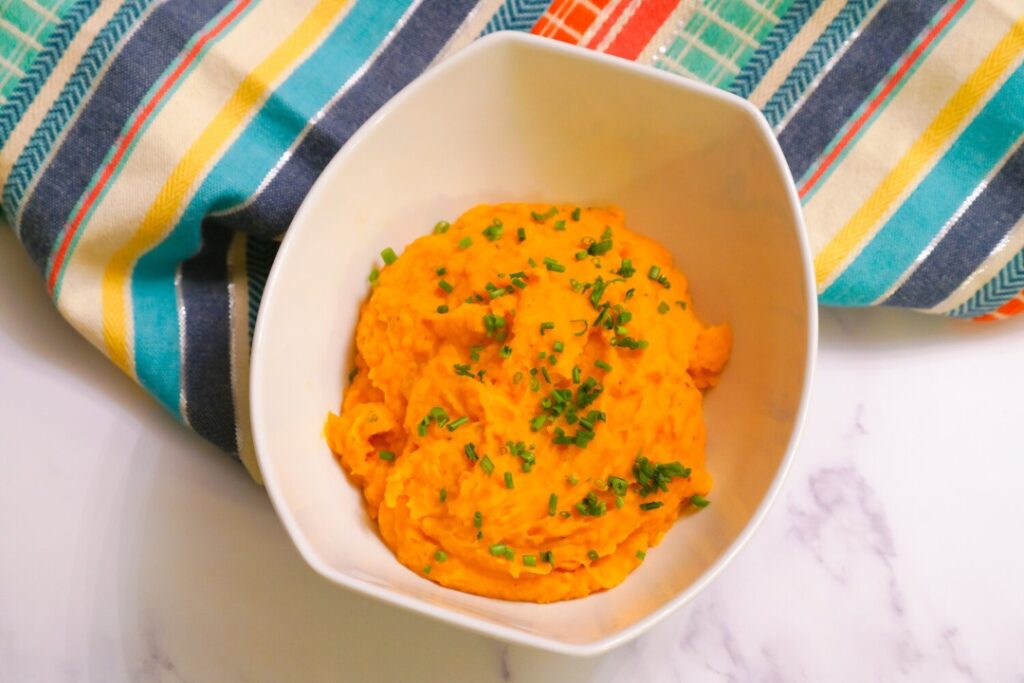 While the sweet potatoes are wet, wrap them in wet paper towels and place in the microwave. Cook for 5-8 minutes each until a knife pierces them easily. 
Meanwhile, in a saucepan, add 1 tablespoon butter or olive oil, the garlic and ginger and sauté gently. 
Scoop out the hot potatoes, add to the pan and season with salt and pepper. If you'd like to make it fancier and richer, transfer to a food processor or using a hand stick blender, add 3-6 tablespoons butter or olive oil. All variations are equally as delicious. 
Spoon into serving bowl. Garnish with chives and serve